Hua Hin and Cha-am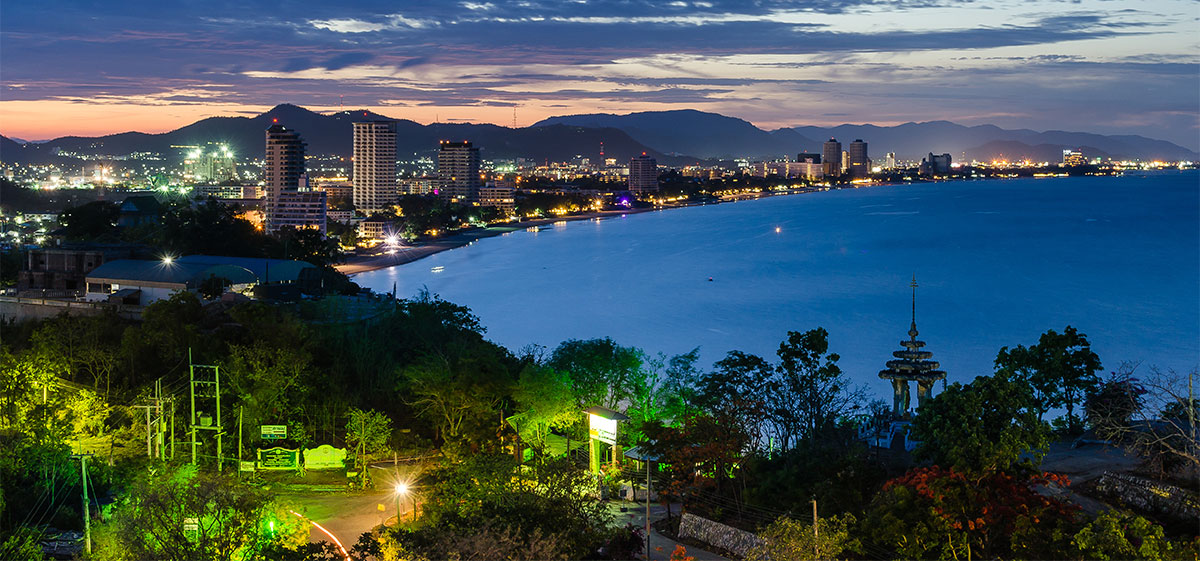 Situated on the Gulf of Thailand's western shores, and a comfortable two and a half hours drive by car from Bangkok, lies the tranquil beachfront city of Hua Hin. This peaceful seaside town has long been a favourite weekend escape for Bangkok residents, but it is also one of the top destinations for Indian weddings. And if you want an even quieter and more low-key locale, then neighbouring Cha-am also boasts superb hotels, superb sandy beaches, and far less crowds.
Both Hua Hin and Cha-am are in close proximity to Bangkok, making it very easy for Bangkok-based caterers to service wedding functions and receptions held here. However, the most important thing these two regions have in common are numerous grand international chain hotels and resorts — both 5 stars and 4 stars — all ready and able to host Indian weddings of any scale, size and budget. And since Indian weddings are a common occurrence in these parts, it's easy to get horses, elephants, and even vintage cars for Baraat ceremonies.
For first time visitors to the Hua Hin and Cha-am region there are many attractions that take travellers back in time to a simpler, gentler age. For example, the charming and picturesque Hua Hin Railway Station has wonderfully preserved wooden Thai-style structures, and is very popular with visitors — even those who do not actually use the country's leisurely paced train service. Another historic attraction is the magnificent all-wood Mrigadayavan Palace, which was built in the 1920's by an Italian architect. It was a summer palace for King Rama VI. One can also explore the Klai Kangwon Palace, provided it's not being occupied by the Thai royal family, which is another example of European architectural influence in the region.
Aside from history and culture, Hua Hin is also renowned for shopping. One of the most popular retail centres is Plern Wan, a semi-outdoor mall that has been fashioned after a traditional wooden village marketplace, where the vintage vibe transports visitors to days gone by. Then, at sundown, the Hua Hin night market opens up, offering an exciting potpourri of stalls selling clothes, food, souvenirs, food, handicrafts and almost anything else you care to mention.
Watersports such as kite surfing are also a popular attraction, but the region is fast becoming known as Thailand's splash park capital. Families with children will especially appreciate cooling down at either the Black Mountain Water Park, the Vana Nava "Water Jungle", or the Santorini Water Fantasy Park in Cha-Am.
Finally, Hua Hin is a popular golf destination, and the Royal Hua Hin course is actually the first golf course ever constructed in Thailand, way back in 1924. Today, this region boasts a total of seven international-standard golf courses, which should be enough to keep even the most avid golfer more than happy.

Phuket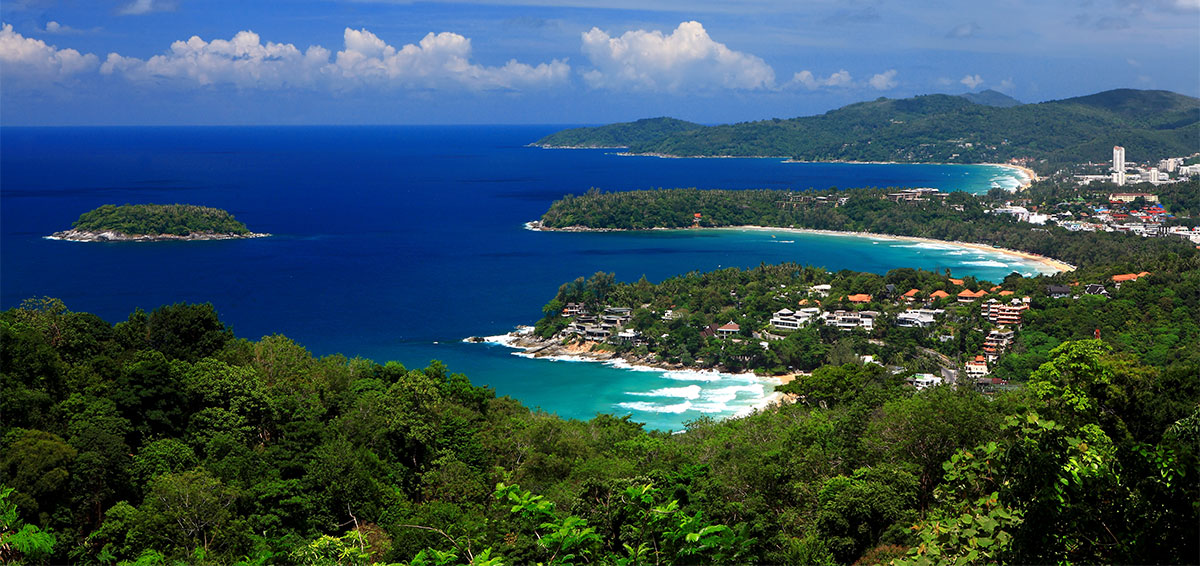 For those planning a grand wedding celebration, the island of Phuket is ideal. The island's recently expanded international airport services both scheduled and charter flights, while daily flights from Bangkok, Koh Samui, Chiang Mai, Chiang Rai and elsewhere facilitate large wedding parties with guests arriving from a variety of locales. Once landed, the range of spectacular hotels and resorts — on both coasts — is almost limitless, and many of these properties have extensive experience handling Indian weddings. Most international brand hotels have a home on Phuket, and can cater to weddings large or small. In addition, there are many luxury boutique resorts available as well, perfect for smaller wedding parties and even better for honeymoons.

The western coast, nicknamed the sunset coast, is where visitors will find the majority of resort towns, with most of the accommodation properties located in and around the beautiful beaches and small bays. Patong, the busiest of these seaside towns, is the island's entertainment hub, with outlets for leisure, watersports, shopping, dining, and nightlife. To the south of Patong lie the white sand beaches of Kata and Karon, while in the north regions such as Bang Tao and Surin Beach are dreamy seaside venues with stunning coastlines.

Head further inland and you will find Phuket Town, which is the island's capital city. One of the key features here is the beautifully kept old town, where visitors can discover Sino-Portuguese heritage on display in the well-preserved mansions, homes and colourful shop houses.

To the eastern side of the island sits Chalong, the harbour from which many of the boat cruises depart. The main attraction here is Phang Nga Bay — its striking features being the towering limestone karst cliffs that jut vertically from the emerald green waters. The most famous of these natural rock formations has been affectionately named James Bond Island after it was used as a location in the 1974 film The Man with the Golden Gun.

Chiang Mai and Chiang Rai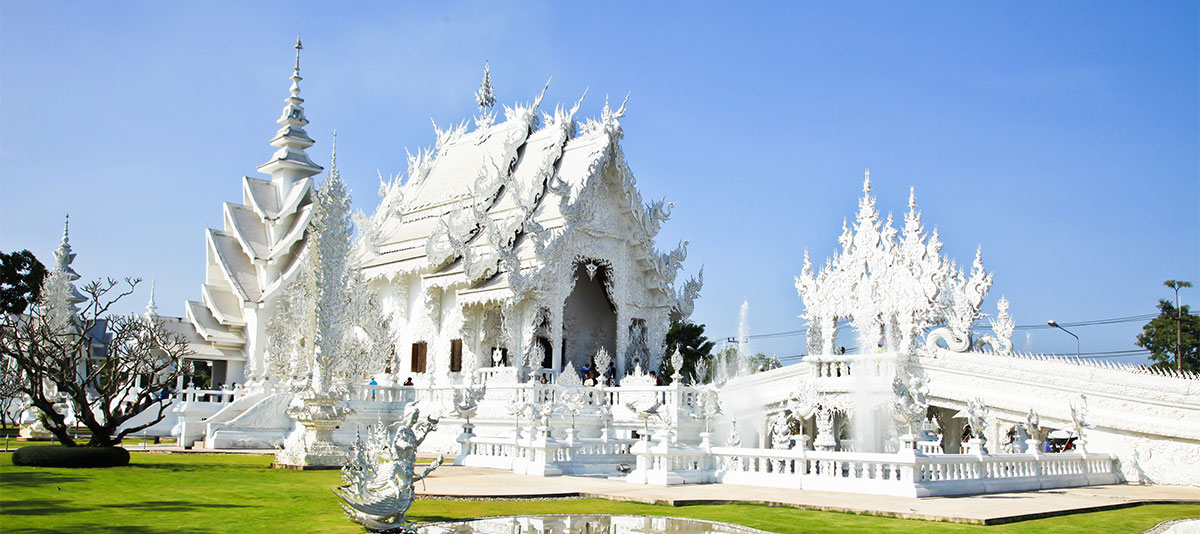 Established over 700 years ago as the seat of the Lanna Kingdom, Chiang Mai is one of Asia's acclaimed cultural and historical centres. The city, Thailand's second largest, has expanded rapidly over the past few years, and now offers a multitude of first rate 4 and 5 star hotels and resorts, fully capable of hosting Indian wedding celebrations. The city also boasts an international airport, with many domestic flights to and from Bangkok, as well as direct rail link with Bangkok for fans of train travel.

It's no surprise that the number of Indian weddings taking place in this region increases each year, due in part to the climate — the higher elevation means that the weather is cooler from December to February —and to the rich Lanna culture which makes this a perfect choice for those looking for a unique Thai-themed wedding. And there's never a problem finding an elephant in Chiang Mai should one be required for your Baraat.

There is a vibrant and youthful intellectual and artistic scene in Chiang Mai and the numerous art galleries and independent boutiques feature aspiring local designers. Part of the charm here is that the city has achieved a seamless blend of tradition and modernity, so whether you are cycling or walking around the old town, you will encounter an almost endless range of ornate temples, as well as shops, spas, restaurants, and cafés — many situated in splendidly restored century old buildings.

The best scenic views can be had at the golden temple at the top of Doi Suthep, which is a highly recommended day trip. Visitors savouring the cool mountain air are rewarded with spectacular panoramic views of Chiang Mai city below, especially at sunset. In the evening, after the sun goes down, the city's many riverfront restaurants, night markets, and nightclubs, keep the fun going until late.

For the adventurous types, Chiang Mai also offers a host of outdoor activities. Nature lovers can visit one of the regions many elephant parks, some of which offer elephant rides in the jungle, while the super sporty daredevil types can opt for a high-altitude zip-lining experience in one of the region's many mountain forests. And for families who can stay up late there's even the Chiang Mai Night Safari, complete with nature trails, safari trips, a mini-zoo area for the kids, and a scenic lakeside pavilion.

Another ideal wedding destination is Chiang Rai, which lies about 150 km northeast of its sister city Chiang Mai. This region is also immersed in history and tradition, and the world-class accommodation properties here are perfect destinations for grand Indian weddings, with many properties offering hotel buy-outs. There are several not-to-be-missed attractions in Chiang Rai, including the Chiang Rai Clock Tower and Wat Rong Khun, which is an eye-popping, all white temple constructed in 1997.

Khao Lak
Travel just an hour north of Phuket, in Phang Nga province, and you will discover Khao Lak, which is essentially an almost unbroken line of superb coastal beaches. The area has developed into a prime tourist destination over the past few decades, and Khao Lak's three national parks offer everything from waterfalls to bike trails and wildlife tours. Meanwhile the steady influx of tourism has created a boom in development, and the choice of high-end, luxury resort accommodations is constantly expanding.

Khao Lak is also the jumping off point for vacationers who want to visit Thailand's famed Similan Islands, one of the world's premier destinations for snorkellers and scuba divers. The beautiful coral reefs and the abundance of undersea inhabitants here make this area, which is also a protected national marine park, into an undersea wonderland.

Krabi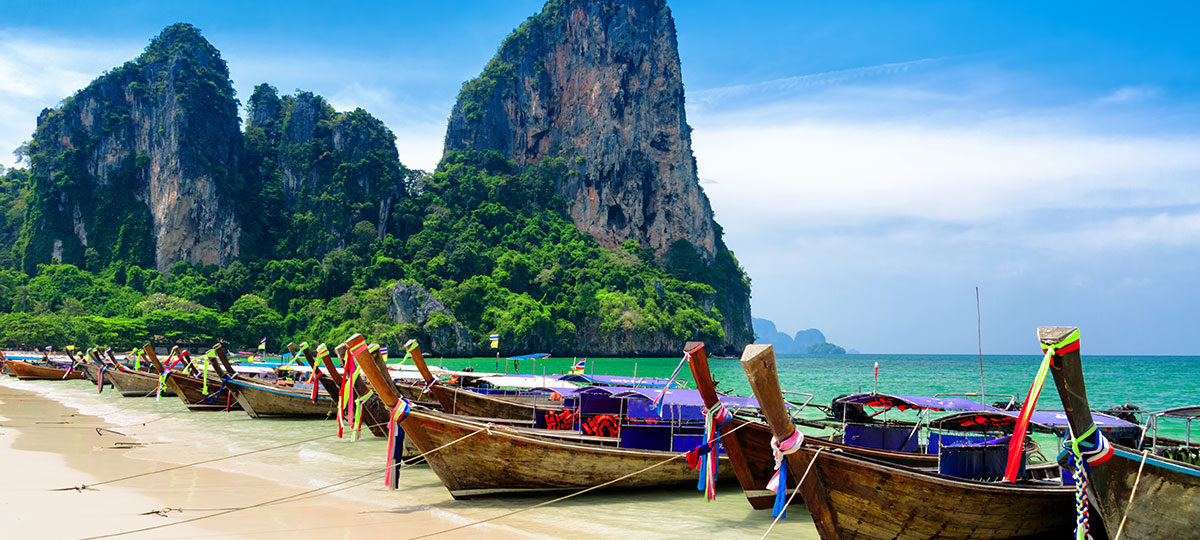 Krabi province is located on the southwest coast of Southern Thailand, at the mouth of the Krabi River. This particular province is frequently credited as being home to some of the kingdom's oldest human settlements, as ancient skeletal remains have been found here by archaeologists. In addition to its distinguished history, Krabi is also famous for its imposing limestone karst cliff formations and its distinctive untamed coastline. Krabi's crystal clear ocean waters make them perfect for snorkeling and scuba diving, while on land there are verdant green forests and ample hiking trails for terrestrial explorers.

The magnificent natural scenery is key to the region's appeal when it comes to both general tourism and destination weddings. Needless to say there are a multitude of spectacular vacation properties to choose from when planning Indian wedding celebrations both large and small.

Ao Nang is the leisure and shopping centre of the region, and also the jumping-off point for most boat trips to the world-famous Phi-Phi islands, as well as Railay Beach, Thailand's premier destination for rockclimbers. In all there are approximately 130 scenic islands within easy reach of Krabi's mainland, many of them featuring limestone peaks that have been hollowed out by the wind and sea, forming scenic lagoons and caves that can be accessed by kayak. Other attractions in Krabi province include the charming and laid back Krabi Town, and spa sessions at the Klong Thom Hot Springs.

Pattaya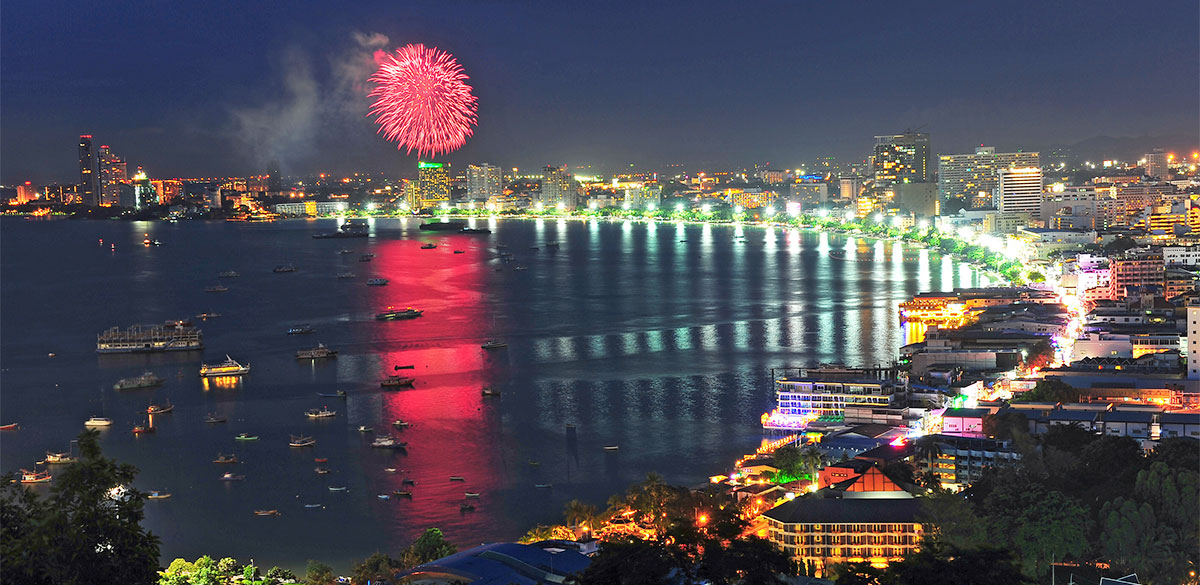 Take a short drive – just under an hour – from Bangkok's Suvarnabhumi International Airport, and you will arrive in the city of Pattaya. Visitors of Indian heritage will instantly feel at home here, as there is not only a thriving Indian community, but the area is a hugely popular destination for Indian weddings. It also has a well-deserved reputation as a "party city", but with a safe and relaxed feel. Everywhere you look there is an eye opening variety of entertainment, nightlife, and activities for all ages, and seemingly limitless choices of luxury 4 and 5 star accommodations, perfectly suited for hosting Indian weddings of any size and budget.

Both Pattaya and the neighbouring region of Rayong lie in close proximity to Bangkok – a mere 2 hour drive – making it very easy for Bangkok-based caterers to service wedding functions and receptions here. However, the most important thing these two regions have in common are numerous grand 4 and 5 star international chain hotels and resorts, all ready and able to host Indian weddings of any size and budget. Furthermore, The North Pattaya Alliance is on hand to assist with larger weddings.

One of the major attractions of Pattaya is the three km long scallop-shaped beach. Here a broad range of watersports is available, with everything from parasailing, to jet skis, to scuba diving. There is no lack of other leisure time activities, and golfers will be especially delighted to know that there are more than 20 courses available in the region. It's also worth noting that there are many picturesque small islands nearby Pattaya, perfect for day trip excursions and holding wedding related special events.

Pattaya is also very family-friendly, and can almost be described as Thailand's amusement park capital. You can view the whole of Thailand, and indeed the world, at Mini Siam, a fascinating miniature park that features tiny versions of the kingdom's best-known landmarks, in addition to pint-size replicas of several wonders of the world. The Ripley's Believe it or Not museum is another must see attraction, featuring rides and a fine collection of Louis Tussaud's wax sculptures of well-known characters and famous faces. In addition, Pattaya Park is fun-filled combination of water park and traditional amusement park, while the ever popular Cartoon Network Amazone invites cartoon fans of all ages to enjoy exploring its 10 wet and wild amusement zones.

Although Pattaya gets much of the attention in this region, the coastal area known as Rayong — about 40 km further from Bangkok than Pattaya — has over 100 km of coastline and in recent years several brand name resort properties have sprung up along this stunning strip of white sand beachfront, making it a good location for small to medium size weddings. It's a tranquil hideaway, with long stretches of idyllic beaches and traditional fishing villages, and nature lovers can trek the forest trails in search of waterfalls and a host of other natural attractions. Rayong province also spreads beyond the mainland to encompass a string of islands that include Koh Samet, which is accessible from the pier at Tha Phae. It's a great place to take in some snorkelling, or perhaps organize a special event wedding function.

Bangkok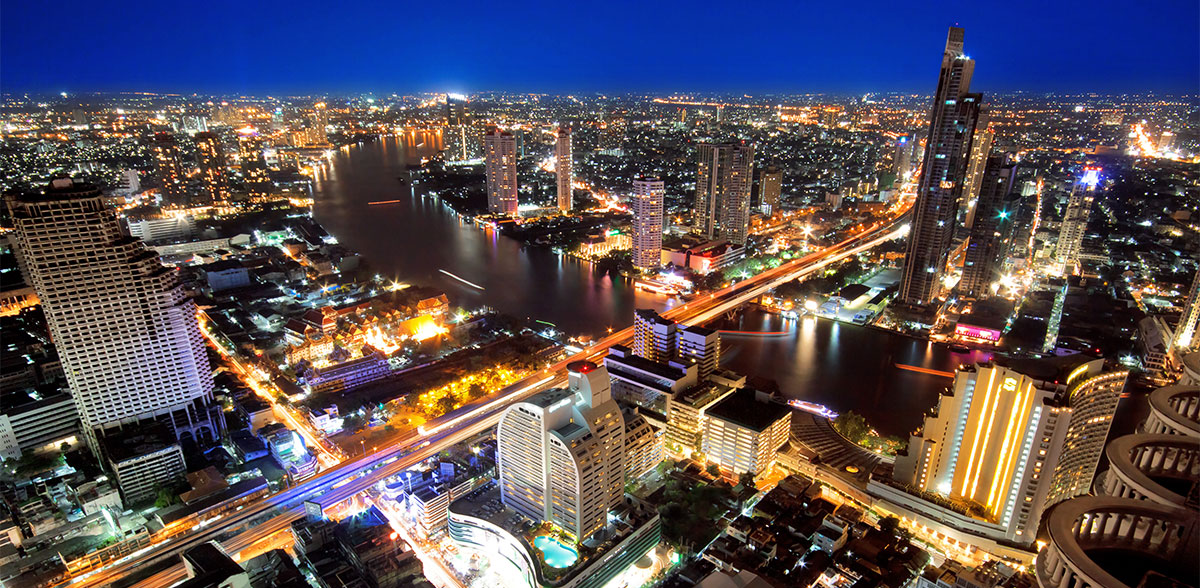 In many respects Bangkok has it all — combining a perfect mix of tradition and modernity. It may be a cliché, but there really is something for everyone in this world-renowned and much-loved capital city. Whether you want 24/7 hustle and bustle, or a quieter, more tranquil atmosphere, you can find it all in this super-charged metropolis.

When it comes to accommodations, both large and small, the range of choices in Bangkok is almost unlimited. Virtually every name brand hotel has a presence in the city, and many properties pride themselves on being experts at handling Indian weddings of any scale. So whether you're looking for a downtown hotel with a fabulous rooftop restaurant and helicopter landing pad, or a riverside hotel with a resort-like atmosphere, the range of selection is truly staggering. It's also worth noting that Bangkok is serviced by two separate major international airports, making travel to and from the city both efficient and affordable.

Bangkok's reputation as a food-lovers paradise has long been established. Look on every street corner and you will see the jaw dropping range of stalls, boasting fabulously aromatic and colourful meals. Meanwhile the city's restaurant scene is vibrant and ever growing, with many chef-led eateries that have received a raft of major national and international awards. Take your pick from hundreds of restaurants serving creative dishes and international fare from a host of different cuisines, including Japanese, Italian, French, Middle Eastern and, of course, Indian.

Bangkok is also regarded as a premier destination for luxury spas, many of which offer a vast range of treatments — from traditional Thai herbal massage to facials, milk baths and body scrubs. It's the ideal way to wind down after a hectic day of shopping. And speaking of shopping, the city is the ultimate in retail therapy as well. From high-end multi-level malls selling a dazzling array of luxury name brands and labels, to the humble street vendors offering quaint souvenirs and other fun items.

Finally, if it's culture you are after, there is an almost limitless number of temples to visit in the city. Top of the list is the elaborate Grand Palace, where visitors can catch a glimpse of the famous Emerald Buddha. From the palace one can easily travel to others important city landmarks, including the amazing Reclining Buddha at Wat Pho, and Wat Arun (the Temple of Dawn).